Card – Milk It……
€3.50
Card printed with Brigid's painting 'Pink Peg' with  the greeting 'Milk It…'
Description
Quality Greeting Cards printed with one of Brigid's original paintings and often accompanied by a witty greeting. The cards measure 104mm x 147mm and come with a coloured envelope.
Pink Peg as she is nicknamed because she always blushes when anyone talks to her. The other cows don't tease her because they know that she is very shy and timid. Despite her blushes she is a wonderful cellist and writes sentimental poetry (often about her unrequited love for Hector)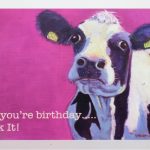 Card - Milk It......
€

3.50